THE AUTHOR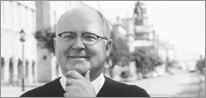 A law graduate from Université Laval, Louis Dussault was Assistant to the Chief of Protocol for the government of Quebec from 1975 to 1978, and Chief of Protocol for the City of Montreal from 1988 to 1995. Le protocole, instrument de communication, which he first published in 1995 (460 pages) and then revised and published again in 2003 (740 pages), has been translated into Romanian and Vietnamese. A Chinese version, now under way, will be published by FLTRP, of Beijing Foreign Studies University.
Dussault gives lectures and conferences, in Quebec and abroad, on protocol and social custom, including professional behaviour. In 2005, he became director of the Centre d'études sur le protocole, at Université du Québec à Montréal.
He founded the Regroupement québécois des amis et bénévoles de musées, which he chaired from 1989 to 2002, and, since 1993, has been chairman of the Ethics Committee of the World Federation of Friends of Museums. From 2001 to 2003, he was president of the Montreal branch of the United Nations Association in Canada.